So I hear people are talking about my previous post.
So here's a part two of the list of the womenly men that I have fallen for. :)
Take note though:
I am not writing this to forcibly out these people, because they are special to me and it is their prerogative as to how they want to live their lives.
I am writing this to show you how distorted my perception of reality is, because though I know who they are, I still fall for them, knowing that I will always be theire best girl friend/ beard.
And I will never say who they are! hihi.
Beki #6:
This one is written by my very good friend, Jeth. Follow him on Twitter for more crazy as well! :) @jethrosanchez
He's been with me through this time of my life and knows all the lovies that I have fallen for!
It took me some time to realize that I have my own REAL LIFE Private Benjamin! Yeah! Same story like the one in movie :)
During colleges days, I thought that I was his porny secretary who would do this and do that (I can't mention the real thing coz it might spoil the thrill), but I'm wrong, obviously! Everyone knows him for being stiff, firm, aggressive, hard and handsome; and most of all as a sex machine. Unfortunately though, I'm not his Pauleen Luna…
Though this one is not yet confirmed but gaydars are like Nostradaums , 10% right, 30% confirmed and 60% LEWIS AND PEARL!
Beki #7:
This one is also written by @jethrosanchez. Ow Em. I think he does this better than me haha!
I call him Kuya…
They call him Kuya…
We call him Kuya…
(Kuya is Big Brother in Filipino)
And this song is for you Kuya:
Well he's my seasonal beki crush because I like him when I'm drunk and he likes me when hes drunk. We have this unbelievable flirty connecton that just won't fade away, even if we really are just good friends now. He is charming and an intelligent guy/gay… He can also get any guy/girl he wants, because he is that charming! And I heard he's great in... :))
Anyway, currently he has a dragon(ette?)…
And that Cheeky Sinister Dragon is sensitive so I have to back off. :)
This concludes everything and my final word is another song from Tuesday Vargas:
I hope you like it!
Okay I won't add anymore because it's hard to follow that kind of art! Good job @jethrosanchez and I hope you write you rown blog as well!
Now the question here is WHY???
Quite frankly I don't know. They say ignorance is bliss, but it's hard to ignore the fact that these guys that I like get more guys than me. I am not forcing myself to them, nor am I blaming them for their choices in life. I guess partly, they have the qualities that I want to have to become a fabulous human being. They also seem to be the perfect mix of the girly sweet attitude that guys want in their girlfriends and the hunky persona that girls want in their boyfriends. My goodness this is confusing!
I feel like Joan Cusack in the movie
In & Out
: Is there anybody out there that isn't gay??????
Joan Cusack and Kevin Kline in the movie!
Oh how I pity this woman.. She's just like me!
Before, the girls scream for the cute guys.
Nowadays, the cute guys scream with the girls.
I also remember the girl from
Love of Siam
. The first time I saw that movie, not only did I cry for Tong and Mew, but I also cried for the girl Ying in the movie, because I literally experienced what happened to her in the movie.
Tsk tsk. Just like me... With a better body.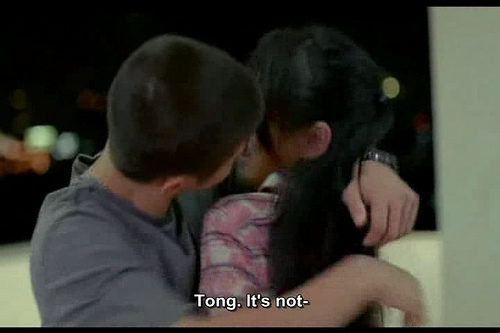 Have you ever fallen for a gay guy? I got a number of people over on Twitter saying AMEN! If you're to shy/embarrassed/ ashamed to post it in the comments, follow me on Twitter @maccerpacker and share your heart out!
I got a full day ahead of me tomorrow, but I promise to post before midnight. :)
Do you have any suggestions for other things you want to see in my blog? Comments down below please!
Thank you guys for following and reading my blog! In less than two weeks, I've had more than 2000 page views! I never thought people would actually take time to read my blog and I am so happy that you enjoy reading my illusions of reality! :)
You ilusyonada,
Maccer