I didn't get to jog again this morning. :(
Now this time I have no other excuse because I was just being lazy.
My wlarm woke me up at 6am and I just said "MEH" and went back to sleep.
When I woke up again two hours later, I was really furious with myself, because I really wanted to ACTUALY START actively losing weight, instead of just lessening my food intake.
To punish myself, I made sure I will clean the whole house.. Toilets included!
So there I was toiling away, and I saw a number of dvds and vcds that weren't classified yet.
Yes, I arrange our cds. Like this:
Then I tape the same colored paper on the dvd/cd. OCB +1!
And so it gave me another activity for the morning. While checking them out, I saw this:
I have always wanted to try out belly dancing because I love Indian culture!
One of my all time favorite movies is 3 Idiots and one of my favorite comedians is Russel Peters :)
RUSSELL PETERS: BE A MAN!!!
ALL IS WELL! I RECOMMEND EVERYONE TO WATCH THIS!
Workouts aren't really my thing. It's one of the reasons why I still haven't joined any gyms because I was so insecure with the other people around me. That, and I don't have the moolah to spend. This was my chance to try a dance workout without having to look around if people are looking or laughing at me.
I guess this is how God was telling me "IT'S NOT TOO LATE TO START YOUR DAY RIGHT!"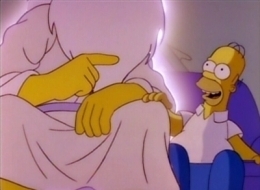 This is your last chance. Don't screw it up!
So after cleaning the house, I turned on the DVD player and prepared to get jiggy with it.
This is Belly Dancing Boogie! (I stared at the screen for a good ten seconds before I pressed play again because I just realized how ludicrous this would be.)
The instructor's name is Rania,
And she has abs...
ABS.
ABS!!!
From belly dancing??? Seriously??? Then I better get this thing started.
Rania said that this would target the abdominal and lower back muscles.
I was getting more enthusiastic about this workout but when I tried to look for my abdominal and lower back muscles, I seriously didn't feel it. All I felt was the warm body fat covering my muscles, like a polar bear ready for hibernation. Then lifting my shirt, I just saw red streaks of stretchmarks.
Good grief.
I was about to just dive into depression like I always do, but I stayed strong and went through with it.
Warm Up:
This move called the Camel.. thingy... Made every muscle in my body work for it!
I seriously thought it was already the exercise proper. IN less than five minutes, I heard more cracks and pops in my joints than in a bubble wrap left to an overly enthusiastic kid.
Now I am no Fred Astaire or Quest Crew member, but I pride myself for having some sort of rhythm in my body. During high school and even college, I showed my fair share of moves and it wasn't that embarrassing..
Boy was I wrong.
Oh my I was such an ilusyonada that it was only now that I noticed how much of a klutz I am:
I forget my lefts and rights.
The spider arms that was just like a waving motion was harder to do than it looked.
NOT AS EASY AS IT LOOKS.
Trying to jiggle and swerve my hips into making a letter 8 WITHOUT moving my shoulders and head is pure torture to noobs.
Moving my body to like that of a wave is not a pretty sight (I kid you not).
And what's even worse is you see the instructors dancing with a smile and not even breaking a sweat.
What are they on, crack???
I guess they have to do that to motivate the viewers, and it was kind of effective.
I never dared asking anyone at home to take pictures of me doing the workout because that will be the beginning of a VERY LONG taunting game and the end of their respect for me (haha).
During the 30 minute workout, I really did enjoy every step, not only because of the good music and I can really feel the burn, but I LOVED ANSWERING BACK TO THE VOICE SAYING THE STEPS!!!
VOICE: This will stretch and tone your muscles...
ME: Stretching my patience too...
VOICE: Now we'll do the camel step...
ME: More like the camel toe.. (haha sorry couldn't help it)
VOICE: Turn, turn, spider arms, spider arms..
ME: Pshiew! Pshiew! (it's the said Spiderman makes when releasing the sticky web thing. get it? get it? meh)
VOICE: Now make your motions smooth...
ME: (already frustrated) I'M TRYING, I'M TRYING!!!
And my favorite line of them all...
VOICE: You can do it...
ME: ARE YOU SURE???
Cool down was worse than warm up! Now that I can feel every movement I make (with pain), I can definitely feel every part of me while I stretch from my head to my toes.
It was all good though! Despite the pain, I really did enjoy my 30 minute belly dancing workout.
I guess it was also the endorphin because even though the internet suddenly turned its back on me at home, I didn't let it ruin my day. (I'm writing this post in SM Fairview Starbucks.. I only ordered tea! Self control +1!)
(Update: SM WIFI sucks. Good thing the internet at home is fixed so I'm finishing this now.)
Now I can have my own workout schedule:
MWF: Jogging (PROMISE I'LL START NEXT WEEK!!!)
TTH: Belly dancing
SS: Walking with momma
DSo my friends, what do you think of this arrangement? I think I can make it work, but do you have anymore suggestions? Comments? Put them in the comment section down below! :)
To my dancer-friends.. What other dances can you suggest for me? I hear pole dancing is good, but I'm afraid I might look like a lechon or even break the pole. :\
Post suggestions of other dance workouts I should try out! Have you tried any dance workout? Did it work? Did it suck? Tell me all about them in the comments section below! :)
And for more cray cray moments, follow me on twitter @maccerpacker and you can tweet me your suggestions as well! :)
I have a really good feeling that I can succeed in this goal of getting healthy :)
UPDATE ON GETTING A MAN:
I opened an app on FB that analyzes my name, and this is what I got:
What do you think of this? I seriously don't know how to tackle this.
I know it's just an app, but it might have some truth to it. What do you think? Comments down below and on twitter!
Once again, I would like to thank all of you for reading and following my blog! It means so much to me, knowing that I'm not alone in this pretty difficult journey of mine.
I know it sounds cliche, but I literally wouldn't be here without you guys.
If it weren't for you, I'd still be stuffing my face with food and just shrug off my new year's resolution.
THANK YOU FROM THE BOTTOM OF MY HYPOTHALAMUS GLAND! :)
Till tomorrow! Thanks a bunch!
Your ilusyonada,
Maccer